A cooling in relations?
Algeria has recalled its ambassador from Paris for consultations and banned French warplanes from crossing its airspace. The North African country's leadership has taken these tough measures in response to the statement by French President Emmanuel Macron.
Macron had criticized the Algerians' attitude towards France and also accused Turkey of fomenting anti-French sentiment. Addressing representatives of French-Algerian descendants of the Harki, Algerians who fought on the French side during the war of independence, the French president was critical of Algeria's political system:
"I'm not talking about the Algerian society in its depths, but about the politico-military system that was built on […] (the) memory rent. We can see that the Algerian system is tired, the Hirak has weakened it".
Macron said Turkey is a country that distorts the history of Algeria, while Turkish control over North Africa was allegedly colonial.
"'I am fascinated by Turkey's ability to completely forget the role it played in Algeria and the domination it exercised. And to state that we are the only colonizers, that's great. Algerians believe it," said the Elysee host.
He added "The construction of Algeria as a nation is a phenomenon to be watched. Was there an Algerian nation before the French colonization? That's the question".
France's ambassador to Algeria was summoned to the Foreign Ministry on September 29 and the Algerian ambassador to France was recalled for consultations on October 2. In addition to statements about Algeria's history, the North African authorities are unhappy with Paris' decision to drastically reduce the number of visas that France issues to citizens of Morocco, Algeria and Tunisia. The authorities of these countries perceived such a move by Paris as unfriendly.
However, Macron's statements to Algeria added fuel to the fire. In the end, Algeria accused France of "genocide". "Following remarks that have not been denied, which several French sources have attributed by name to [Macron], Algeria expresses its categorical rejection of the admissible interference in its internal affairs," the Algerian presidency said in a statement.
Macron's hypocrisy
During the 2017 election campaign, Emmanuel Macron's speech in Algeria was interpreted as an indicator of a possible reset in Franco-Algerian relations. During his brief visit to Algeria in February 2017, then-candidate Macron acknowledged the use of torture during the 1954-1962 Algerian war. Macron promised a new relationship.
However, four years on, it is worth emphasizing: not only has Macron, a liberal and globalist, not abandoned his neo-colonial legacy, on the contrary, he treats African countries with arrogance. Insulting remarks about Turkey and Algeria suggest that Paris is jealous of any attempts by the former colony to diversify relations. France, despite all its promises, is not ready to accept full responsibility for crimes in former colonies and still sees itself as carrying a mission to civilize "backward" African peoples.
"It was Macron before. Today a new Macron has arrived. A dashing, recovered, offensive Macron who no longer spares Algerian leaders… It's like a declaration of war", commented French journalist Benoît Rayski. 
However, the Algerian president elected in December 2019, Abdelmadjid Tebboune, has begun an act of rapprochement with Turkey, a regional rival of France. Turkey is involved in hundreds of investment projects in Algeria, as the country ranks third in the world for the presence of Turkish companies. Turkish companies are Algeria's largest foreign employer, employing 28,000 Algerians. For France, Algerian-Turkish relations and the expansion of bilateral ties raise fears of losing ground in the eastern Mediterranean.
Macron's anti-Algerian statements are rooted in both, domestic political reasons (a desire to win votes from the extreme right in next year's elections) and the irritation at the increasingly close cooperation between Algeria and Turkey. The strengthening of Turkish-Algerian ties directly threatens the French imperialist policy in Libya and the Eastern Mediterranean.
The consequences of the strife
The cooling of French-Algerian relations could have a direct impact on military operations in Africa (above all in Mali). In the short term, it is a question of closing the airspace of Algeria to French aircrafts.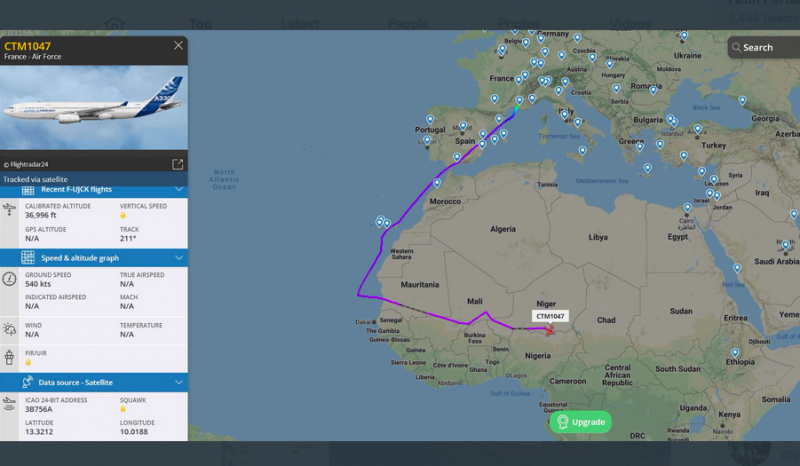 This unexpected and painful development for the French side may play into the hands of Russian plans to expand influence in Mali. On 30 September, the Malian authorities received from Russia four Mi-171 military helicopters with arms and ammunition as part of an interstate contract signed in December 2020. Mali is preparing to conclude a counter-terrorism contract with the Russian PMCs, contrary to France's position. In addition to Russia, Turkey is also actively engaged with Mali. Paris views both of these powers as its main rivals for influence in Africa.
In addition, Algeria is an important partner in the fight against terrorism in the Sahel. This applies to the situation in northern Mali, whose territory adjoins directly to Algeria's borders. Algeria was behind the signing of peace agreements between Tuareg separatists and the official government o in 2015.
It is clear that without Algeria's cooperation, the security issues in Mali cannot be resolved.
Algeria advocates a flexible strategy, including negotiations with a number of Islamists, with promises of amnesty in exchange for de-radicalization and the laying down of arms. Paris actively opposes this. However, the French strategy has proved a failure; during Operation Barkhan in Mali, the terrorists' influence has only increased. If Paris's adversaries in Mali gain Algeria's support, they may be able to pursue a more productive and constructive approach, demonstrating that the abandonment of French help leads only to the stabilization of the country.
It is clear that Paris's opponents will exploit the French-Algerian tensions. Moreover, these disagreements could seriously affect the balance of power in both the Eastern Mediterranean and the Sahel.
Russia is the main candidate to oust France as a major security partner in Africa. However, Turkey could also exploit the weakening of Paris. The cooling of relations between Algeria and France is another demonstration of how Paris' neo-colonial empire is crumbling. Former colonies (Algeria, Mali and others) are actively asserting their sovereignty. France will have to reckon with the new geopolitical reality.