Experts close to the Syrian Government called to Turkey to cooperation after ten years conflict between the two countries. Dr. Besssam Abu Abdullah, Head of the Ba'ath Party's Central Party School and Dr. Ziad Ayoub Arbache, professor in the Faculty of Economics, Damascus University wrote an article on potential cooperation between Turkey and Syria. Authors drew attention to the fact that Turkey, in cooperation with Russia and China, can be a lever for the reconstruction in Syria.
Dr. Besssam Abu Abdullah, Head of the Ba'ath Party's Central Party School and Dr. Ziad Ayoub Arbache, professor in the Faculty of Economics, Damascus University put emphasis on favourable opportunities to reestablish relationship between Turkey and Syria in spite of ten years challenges in their article, which published in Belt&Road Initiative Quarterly (BRIQ) 2020/2021 Winter Issue. This article argues the idea of combining the Belt&Road Initiative with the Five Seas Strategy which declared by Bashar al-Assad, Syrian President in 2004. Syrian experts stressed that Turkey and Syria will gain together in case of rebuilding their relations and cooperating with each other and what is more they can overcome the instability in the Middle East.
"There is no impossibility in politics. One should take into account the possibility of restoring Syria's relations with Saudi Arabia and Turkey in favor of a more prosperous Middle East that has overcome its problems of instability."
Authors also underlined the importance of potential partnership between Turkey and Syria:
"Turkey and Syria are potential partners, not only in regional security issues, but also in forging closer ties with the EU, the Balkans, Caucasus, and Arab countries."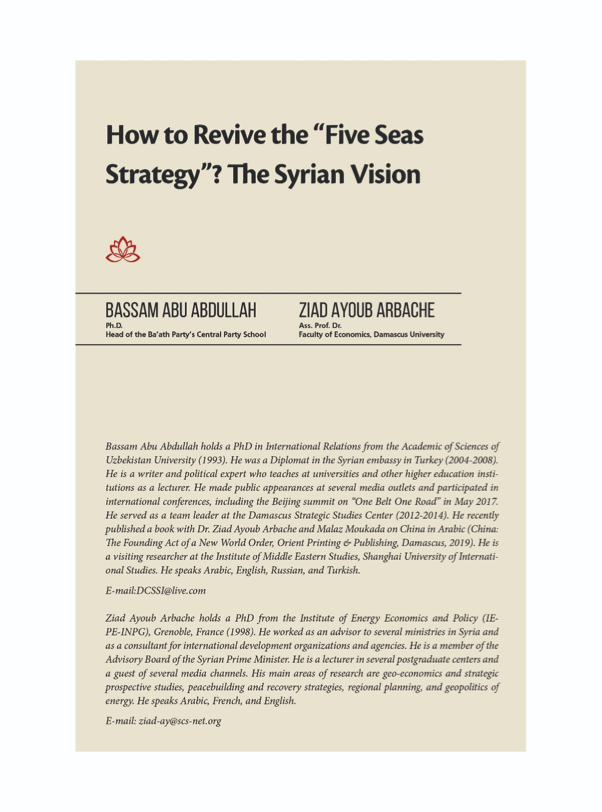 Turkey's Role as a Lever
Syrian experts indicated that Turkey, in cooperation with Russia and China, can be a lever in the projects for reconstructing of Syria and Iraq:
"Instead of playing on international contradictions, Turkey can be a lever in the heart of the Five Seas region, which requires to implement massive reconstruction projects not only in Syria but also in Iraq (which was not helped by the American presence for two decades) and the entire region, in cooperation with Russia and China."
Turkey can Focus on Regional Cooperation
Authors expect Turkey's returning to the line of regional cooperation in a short period:
"Turkey can play an important role in the region if it adheres to the principle of regional cooperation. It is likely that Turkey will be soon forced to return to regional and international cooperation after the failure of its adventurist unilateralism, especially concerning Syria. This situation will be further accelerated by rising migratory flows and extremism in Europe, which would force Turkey to be more cooperative."
What is the Five Seas Strategy
Dr. Abdullah and Dr. Arbache explained the framework of the Five Seas Strategy, launched in 2004 by Bashar al-Assad, Syrian President, in 2009:
"President Assad explained his expanded vision in 2009: 'Once the economic space between Syria, Turkey, Iraq, and Iran becomes integrated, we would link the Mediterranean, the Caspian, the Black Sea, and the Gulf …we are not only important in the Middle East …Once we link these Four Seas, we become the compulsory intersection of the whole world in investment, transport, and more."
The Main Approach for the Solution
Underlying the failure of the USA aiming the war for destroying the Syria, authors remarked that it is time for common solutions to common problems among regional countries:
"Based on its cultural heritage and future vision, Syria launched the Five Seas Initiative in 2004, with the intention of improving regional cooperation. This initiative triggered a plethora of new paradigms and terminologies that address several developments expected to influence both the Middle Eastern conflict theater and the international landscape, particularly in the period 2010-2011 After nine years of war that served to undermine the Five Seas Initiative, and upon the failure of the hegemony of global capitalism in its crude forms, it is now time to put forward a real alternative based on common interests between regional and international actors, which would respect regional diversity away from extremism. Since Middle Eastern countries share common problems, proposed solutions to these problems would be more effective if they were formulated and carried out collectively."
Combining the "Five Seas Strategy" with the Belt & Road Initiative (BRI)
"The combination of the "Five Seas Strategy" and the Belt & Road Initiative (BRI) would provide such a solution by reconstructing southwest Asia and creating a network of infrastructures thanks to Syria's privileged geopolitical position at the intersection of the Mediterranean, the Indian Ocean, the Red Sea, the Caspian Sea, and the Black Sea. Full engagement with this combined strategy seems to be the best way to avoid another wasted decade for the majority of Middle Eastern countries."
"The Five Seas region and BRI could be an advantage for all parties. For China and Russia, it is more advantageous to work together in force than to work individually, to achieve shared objectives with Iran, Iraq, and Syria. Russia is keen to consolidate its position in Syria. However, this will not be possible if the country were not rebuilt. This is where China's role is needed. China has reportedly joined with its Russian and Iranian allies to take part in future reconstruction projects and post-conflict investment opportunities in Syria."
Crucial Position of Syria in the BRI
"BRI can help rebuilding efforts for Syria's devastated economy on a new basis, protecting it from external threats. BRI will provide Syria with a more stable environment, with South-West Asia being structured around two corridors (with major roles in particular for Iran, Iraq, Syria, and Lebanon), whether it is the rail corridor and motorway (going from Urumqi as the largest city in western China to coastal towns in the Middle East) or sea routes leading to the Mediterranean via Suez."
"Despite Syria's economic weaknesses and the hostility of the US, Syria, through its alliance with Russia and Iran, has been able to revive Damascus' political influence in recent years. Syria faces an uphill struggle for its economic strategy but as Iraq's formidable energy resources come into play, this will enhance his vision."
"Based on the current alliance between Syria, Russia, and Iran, and a relative understanding with Iraq, Syria is still able to use its geographical position to facilitate the flow of natural gas from Iraq to Europe as its only outlet on the Mediterranean, adding to the possibility of Iranian gas passing through the same pipelines. One should also keep in mind the potential oil and gas capacity on the northern side of the Syrian coast."
In BRIQ's New Issue
Belt&Road Initiative Quarterly (BRIQ) 2020/2021Winter Issue entitled, "Reclaiming the 'Blue Homeland' Through the Maritime Silk Road" includes articles; "Gas Hydrates: The Energy Source of the Near Future" by Prof. Dr. Günay Çifci from the Dokuz Eylül University; "From 'Mare Nostrum to International Maritime Cooperation: How History Can Offer Constructive Answers to Future Prospects in the Mediterranean" by Prof.Dr. Dominik Pietzcker from Macromedia University; "Problems and Solutions in the Karabakh Conflict: From the Beginning to Today" by Dr. Arif Acaloğlu; "A Neo-Mahanian Reading of Turkey and China's Changing Maritime Geopolitics" by Asst.Prof. Efe Can Gürcan from Istinye University; "The Formulation of the Blue Homeland Doctrine" by Tevfik Kadan as well as the article entitled, "How to Revive the 'Five Seas Strategy'? The Syrian Vision" by Dr. Besssam Abu Abdullah and Prof. Dr. Ziad Ayoub Arbache and photography by Ömer Burhanoğlu.